John P. Ryan, PhD Welcomed to Faculty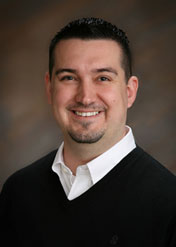 The Department of Psychiatry is pleased to welcome John P. Ryan, PhD to the faculty as an Assistant Professor of Psychiatry. His research interests include functional magnetic resonance imaging, the effects of insulin resistance and Type 2 Diabetes on brain structure and function, and central mechanisms of autonomic neuropathy.

Dr. Ryan earned his doctorate in Psychology from Georgia State University and completed a Cardiovascular Behavioral Medicine postdoctoral fellowship at the University of Pittsburgh prior to his faculty appointment. With support from a Mentored Research Scientist Development Award from the National Institute of Diabetes and Digestive and Kidney Diseases, Dr. Ryan is studying neurobiological correlates of autonomic dysfunction and insulin resistance. Dr. Ryan has published in several scientific journals, including NeuroImage and Psychosomatic Medicine, as well as chapters in The Encyclopedia of Clinical Neuropsychology and The Handbook of Cardiovascular Behavioral Medicine. Dr. Ryan is a member of numerous professional organizations including the Society for Neuroscience, American Diabetes Association, and American Psychosomatic Society. Please join us in welcoming Dr. Ryan to the faculty.