Distinguished Public Service Award
Loren Roth, MD, MPH Honored by the University of Pittsburgh
with Chancellor's Distinguished Public Service Award
The Department of Psychiatry is honored to announce that the Dr. Loren Roth has been selected to receive the prestigious Chancellor's Distinguished Public Service Award from the University of Pittsburgh.
The Chancellor's Distinguished Public Service Award recognizes outstanding public service contributions by University of Pittsburgh faculty who have utilized University and academic resources to address social problems and to improve the general welfare of humankind. The award is determined in part by Dr. Roth's colleagues and community leaders.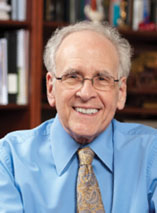 Dr. Roth has held leadership positions within the University of Pittsburgh and UPMC. He is currently Distinguished Service Professor of Psychiatry and holds secondary faculty appointments in the Graduate School of Public Health and the Clinical and Translational Science Institute. In addition, Dr. Roth serves as the Associate Senior Vice Chancellor for Clinical Policy and Planning for the Pitt Schools of the Health Sciences, and is a Senior Advisor on Quality to the UPMC Health Plan.
A leading expert in the field of law and psychiatry, Dr. Roth has conducted seminal research and written extensively on the topics of informed consent, patient dangerousness and competency, confidentiality, and ethics in research. Throughout his career, Dr. Roth has directed numerous initiatives aimed at enhancing communication between physicians and patients, and improving patient safety and the quality of care. He has also had a profound influence on medical student education and the training of residents, incorporating this work into medical education curricula and clinical training.
As part of the award, the University of Pittsburgh will provide Dr. Roth with a grant of $3,000 to support public service activities.