Charles Watson Teaching Award
Charles Watson Teaching Award Presented to
Antoine Douaihy, MD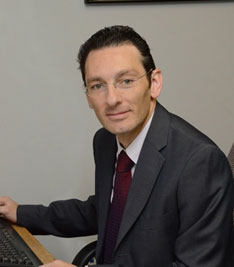 The University of Pittsburgh School of Medicine chapter of Alpha Omega Alpha (AOA) has selected Antoine Douaihy, MD, Associate Professor of Psychiatry, as the recipient of the Charles Watson Teaching Award. This award recognizes a faculty clinician who best embodies the qualities of Dr. Charles Watson - a masterful clinician, academician, caretaker of his patients, educator, mentor, and contributor to the medical school community and community at large. Dr. Douaihy will be presented with the award at the AOA Induction Banquet on April 23rd at 5:30pm at the O'Hara Student Center.
Dr. Douaihy is actively involved in a number of academic and clinical activities. He serves as the Medical Director of the Addiction Medicine Services, Addiction Psychiatry Fellowship and Associate Director of Residency Training at Western Psychiatric Institute and Clinic at UPMC (WPIC). Dr. Douaihy also has been actively involved in teaching, supervising and mentoring medical students, psychiatry residents, and clinical psychology interns. In addition, Dr. Douaihy is the Medical Director and Co-Investigator of the Appalachian Tri-State Node of NIDA's Clinical Trials Network, serves as an Investigator in NIDA, NIAAA, and NIMH clinical research trials and collaborates as a Co-Investigator with Pennsylvania Mid-Atlantic AIDS Education and Training Center (AETC).
The Charles Watson Teaching Award is the latest in a series of honors bestowed on Dr. Douaihy in recognition for his dedication to education and training. He is also the recipient of multiple Golden Apple Teaching Awards (2003, 2006, 2007), Clerkship Preceptor of the Year Awards (2006 and 2011), Mid Career Award for Outstanding Achievement in Medical Student Education (2008) and the Leonard Tow Humanism in Medicine Award (2011), among others.