CBS Program Features Sleep Experts
CBS Sunday Morning Features Sleep Experts and the Neuroscience Clinical and Translational Research Center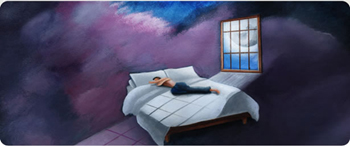 The CBS Sunday Morning weekend news program recently aired a story on Putting Insomnia Problems to Rest that featured the work of Department of Psychiatry sleep researchers at the Neuroscience Clinical and Translational Research Center (N-CTRC). Reporter Susan Spencer spoke with Daniel Buysse, MD, and Wendy Troxel, PhD, about their investigation of what causes insomnia and strategies for effectively treating the disorder. Dr. Buysse is the Director of the N-CTRC and Co-Director of the University of Pittsburgh Sleep Medicine Institute. His research focuses on the neurobiology, assessment, and treatment of insomnia, including both behavioral and pharmacologic treatments. Dr. Troxel is a nationally recognized expert who focuses on sleep as an important pathway that may link close relationships, including marriage, with mental and physical health.
The N-CTRC, located at Western Psychiatric Institute and Clinic (WPIC), focuses on research in clinical neuroscience, psychiatric disorders, sleep, and circadian rhythms.
To watch the video and learn more about the innovative research taking place at the N-CTRC, click here.