Call for Abstracts - 2012 Department of Psychiatry Research Day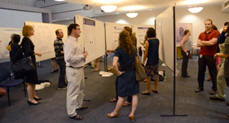 The Department of Psychiatry will host its Twelfth Annual Research Day on Thursday, June 7, 2012. Assistant professors, post-doctoral fellows, residents, research staff and graduate, undergraduate, and medical students are invited to submit abstracts for Research Day poster presentations. Click here to access the Call for Abstracts. The deadline for submission is April 6, 2012.
We hope you will join us for this full-day event that showcases the research accomplishments of our Department and features a number of activities including a keynote address, poster session, light lunch, oral presentations, and an awards ceremony. The event will take place in Ballrooms A/B of the University Club and the 2nd floor Auditorium at the Western Psychiatric Institute and Clinic (WPIC). Please contact Jeanie Knox Houtsinger (Telephone: 412-246-6784; Email: knoxjv@upmc.edu) for more information regarding this event.