Eva Szigethy, MD, PhD
Presented with Emerging Mentorship Award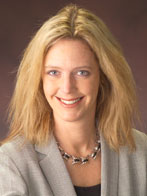 The Department of Psychiatry has presented Eva Szigethy, MD, PhD with the 2012 Emerging Mentorship Award. The award is presented to a faculty member in recognition of their ongoing commitment to the training and mentorship of students, fellows and junior faculty to help them achieve success in their academic careers. Dr. Szigethy is an Associate Professor of Psychiatry, Pediatrics and Medicine, and serves as the Clinical Director of the Medical Coping Clinic and the Visceral Inflammation and Pain Center at Children's Hospital of Pittsburgh. In addition to her teaching, mentorship and clinical duties, Dr. Szigethy also is a noted academic researcher. Her research examines the detrimental effect of depression on disease course in physically ill youth and adults with emphasis on the neurodevelopmental trajectory of mental and physical illness as adolescents transition to adulthood.
Please join us in congratulating Dr. Szigethy on her receipt of this award.