2012 Clinician Educator Showcase
2012 Clinician Educator Showcase
Highlights Clinical Innovations by Department Faculty and Staff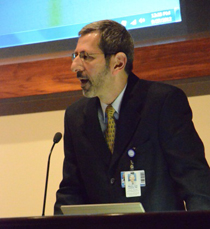 The Department of Psychiatry and Western Psychiatric Institute and Clinic recently hosted the first annual Clinician Educator Showcase.  The afternoon began with a Plenary Session, chaired by Martin Lubetsky, MD, that detailed three stellar examples of successful quality innovations in clinical care.  Each presentation highlighted the role of faculty psychiatrists in the development of excellent clinical programs.
The first presenter, Dr. Abby Schlesinger, described the ?Early Access to Integrated Behavioral Health Services in the Pediatric Medical Home? -- a collaboration among WPIC child and adolescent psychiatrists, Children?s Hospital behavioral health clinicians, and Children?s Community Pediatrics pediatricians and their practices.  The integrated service resulted in more behavioral health visits, increased show rates, and increased use of evidence-based behavioral health interventions in the pediatric primary care office. This program won the 2012 Hospital and Health System Association of Pennsylvania?s Patient Care Award and Innovation Award. 
The second presenter, Dr. Michael Marcsisin highlighted ?Overcoming Challenges Associated with the Application of Recovery Principles in the Care of Individuals with Acute and Chronic Mental Illness? -- the philosophy shift of changing systems from long term care to community and recovery models of care.  Recovery emphasizes that people with mental illness can recover and encourages their development of skills, relationships, and coping strategies necessary to live successfully in the community. 
The third presenter, Dr. Jamie Tew, discussed ?Physician Advisors as Agents for Health Care Change?, and illustrated the physician?s role in system and culture change in improving the efficiency and delivery of behavioral healthcare in the future. In recent years, the Physician Advisor has emerged in hospital settings as a new role, and provides education on trends in healthcare reimbursement, assists clinical treatment teams in responding to changing incentives, and tracks quality and efficiency.
These presentations illustrated the successes of faculty pursuing their passionate work through the Administrator-Clinician-Educator career path. These three projects are representative of many collaborations among faculty, physicians, administrators and clinicians to develop enduring programs which can be generalized to other patient populations and settings. The success of this Showcase certainly set the stage for next year's event.