William Klunk, MD, PhD October 30, 2012,

4:00 pm

-

5:00 pm
Scaife Hall, Lecture Room 6
University Honors Dr. William Klunk on October 30, 2012
With Distinguished Professor Lecture and Reception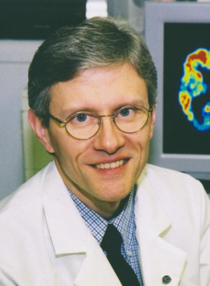 Join us on Tuesday, October 30, 2012 from 4:00pm-5:00pm in Lecture Room 6 of Scaife Hall for a special lecture and reception celebrating the appointment of William Klunk, MD, PhD as a Distinguished Professor of Psychiatry at the University of Pittsburgh. This is an honor not only for Dr. Klunk, but also for our Department as we recognize his outstanding accomplishments and contributions to the field.
Come celebrate with us at this important event. It is a wonderful opportunity to learn more about Dr. Klunk's work and career path, to congratulate him on this milestone in his career, and to reconnect with your colleagues.
Dr. Klunk is an internationally recognized expert on the development and application of PET amyloid imaging agents for the diagnosis of Alzheimer's disease and for the assessment of the effectiveness of therapeutic interventions. In addition to his extensive research activities, he has established a reputation as a superb educator and mentor to students, trainees and junior faculty.