Special Guest Lecture August 27, 2013,

2:30 pm

-

3:30 pm
Starzl Biomedical Science Tower, Room W1695
Time Frequency Analysis of Auditory Sensory Dysfunction in Schizophrenia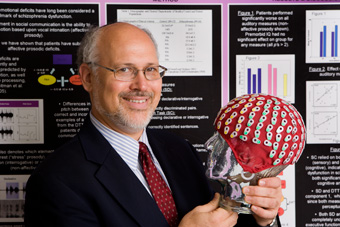 Daniel C. Javitt, MD, PhD
Professor of Psychiatry
and Neuroscience
College of Physicians
and Surgeons
Columbia University
Dr. Javitt directs the Division of Experimental Therapeutics as well as the Columbia Conte Center for Schizophrenia Research. In addition, he serves as Director of Schizophrenia Research at Nathan Kline Institute for Psychiatric Research, a New York State Office of Mental Health-supported research facility. He received his BA, magna cum laude from Princeton in 1979 and his MD from Albert Einstein College of Medicine in 1983. He completed his residency in Psychiatry in 1987, and earned a PhD in Neuroscience from Einstein in 1990. His research focuses on mechanisms underlying negative symptoms and cognitive deficits in schizophrenia and other serious mental disorders, with particular emphasis on NMDA receptors and neurophysiological assessment, and on new treatment development using both pharmacological and brain stimulation approaches. He has published over 250 articles on issues related to normal brain function, NMDA receptors and schizophrenia. His original article proposing NMDA receptor involvement in schizophrenia has received over 2000 citations to date, and is considered a citation classic.
Dr. Javitt has received awards for his research from numerous organizations, including the Penwalt Resident Research Award from the American Psychiatric Association in 1987; The Kempf Fund Award for Research Development in Psychobiological Psychiatry from the American Psychiatric Association in 1992; the M.A. Brazier Award at the International Congress of EEG and Clinical Neurophysiology in 1997; the A.E. Bennett Basic Science Award from the Society for Biological Psychiatry in 1998; the Joel Elkes Research Award from the American College of Neuropsychopharmacology in 2002; a MERIT award from the National Institutes of Mental Health in 2003; the Alexander Grailnick Award from the Child Welfare League of America in 2007; the Stanley Dean Award for Schizophrenia Research from the American College of Psychiatrists in 2012, and the Research Award from the American Psychiatric Association in 2013.
He holds patents for use of glycine, D-serine and glycine transport inhibitors in schizophrenia. His work has also been featured in the PBS special "Prisoners of the Brain," and in Scientific American. His research is supported by the National Institute for Mental Health, the National Institute on Drug Abuse, the Stanley Medical Research Institute, and other philanthropic organizations. He currently serves on the editorial board of several prestigious journals including Schizophrenia Bulletin, Schizophrenia Research, and American Journal of Psychiatry. He is a Fellow of the American College of Neuropsychopharmacology, an advisory board member for the Brain and Behavior Research Foundation and a standing member of the Institute of Medicine Neuro Forum.
For more information regarding this lecture, please contact Tracey Capotosto at Capotostolt@upmc.edu.