Global Mental Health Initiatives

October 21, 2011, 12:00 pm
WPIC Auditorium
Department of Psychiatry Lecture Series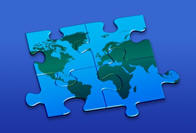 Global Mental Health Initiatives
We invite you to attend a very special session on Global Mental Health Initiatives hosted by the Department of Psychiatry. This session is designed to:
Provide attendees with information about facilitating partnerships and research collaborations between University of Pittsburgh faculty and trainees with colleagues around the world;
Highlight some of the many international multidisciplinary projects developed by and involving Department of Psychiatry faculty; and
Engage attendees in an interactive discussion to learn more about their research interests and how they can become more fully engaged in new global mental health initiatives.
The session will also feature speakers and a special panel consisting of Department of Psychiatry faculty engaged in international health initiatives and leaders from the University of Pittsburgh Center for Global Health.
We hope you will join us for this informative and interactive session. It is a wonderful opportunity to learn more about the many global mental health initiatives that Department of Psychiatry faculty and trainees are engaged in, to share your own research interests in this important area of public health, and to facilitate collaborations with some of the leading researchers in the country.
For more information regarding this special presentation, please contact Dr. Vishwajit Nimgaonkar at vishwajitnl@upmc.edu.