Francis E. Lotrich, MD, PhD February 22, 2012,

12:00 pm

-

1:00 pm
UPMC Shadyside, Hillman Cancer Center, Cooper Classroom C
BRAIN, BEHAVIOR, and CANCER Seminar Series
Sponsored by the Biobehavioral Medicine in Oncology Program
University of Pittsburgh Cancer Institute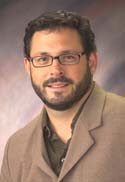 Depression from Inflammatory Cytokines:
The Role of Brain-derived Neurotrophic Factor
Francis E. Lotrich, MD, PhD
Assistant Professor of Psychiatry
University of Pittsburgh School of Medicine
Patients who receive interferon-alpha treatment are at very high risk for developing major depression, though most people do not develop this type of psychiatric side effect. Genetic vulnerability plays a role, including in the serotonergic system. In addition, there are several layers of interactions between neurotrophic growth factors and inflammatory cytokines that may influence who is susceptible to developing depression. Dr. Lotrich is a psychiatrist with a background in neuroscience who has been examining genetic risk and the role of various biomarkers in the major depression that occurs during inflammation (to better target specific preventions and treatments to those who would most benefit).
The Cooper Conference Room is located on the ground level of the Hillman Cancer Center, 5115 Centre Avenue in Shadyside. After entering the building walk to the left past the elevators and gift shop and make the first left down the hallway. Room C is the 3rd door in the lobby area
A light lunch will be provided. Please contact Jessica Manculich (manculichjf@upmc.edu) if you plan to attend, need directions, or need more information.