Adult Mood and Anxiety Services

April 13, 2012, 12:00 pm
WPIC Auditorium
Department of Psychiatry Lecture Series
Clinical Grand Rounds
Innovative Treatments: What Will Treatment for Mood Disorders Look Like in 2025?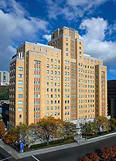 Presenters:

Jack Cahalane, PhD, MPH
Robert Howland, MD
Greg Siegel, PhD
Dorothy Sit, MD
Mood disorders are among the most common of psychiatric disorders, whether primary or as part of a co morbid presentation. There has been a long history of evidence based treatments for mood disorders that include psychotherapeutic and pharmacological interventions. Other interventions that expand the repertoire of clinicians providing treatments have an evidence base but are less well understood or utilized. Clinical practice needs to be informed by developments in all manner of treatments including light therapy, other somatic treatments and innovative uses of brain imaging to direct treatment choices as we develop the clinics of the future.
Learning Objectives:
Recognize symptoms clinical depression
Understand the role of pharmacologic, psychotherapeutic and other treatments in providing psychiatric care for mood disorders
Understand current including novel approaches to individuals with a mood disorder
Please direct inquiries or requests for special accommodations in order to participate to Ann Lauth (Telephone: 412-246-6608; Email at lautha@upmc.edu).
Sponsored by Western Psychiatric Institute and Clinic, the Office of Clinical Affairs, WPIC and the Department of Psychiatry, University of Pittsburgh School of Medicine