Clinical Geriatric Fellowship
Director
Jordan F. Karp, MD
Associate Director
Esther Teverovsky, MD
WE ARE NO LONGER ACCEPTING APPLICATIONS FOR THE 2018-2019 ACADEMIC YEAR. APPLICATIONS FOR THE 2019-2020 ACADEMIC YEAR WILL BE ACCEPTED STARTING MAY 1, 2018.


Overview
The Geriatric Psychiatry Clinical Fellowship, based at the University of Pittsburgh School of Medicine's Department of Psychiatry, is a one-year PGY5 program fully accredited by the Accreditation Council for Graduate Medical Education (ACGME). Our Division of Geriatric Psychiatry has a national reputation for clinical and educational expertise in late-life mental health, and an international reputation as a research leader in late-life mood and cognitive disorders. Fellows completing this program are eligible for the ABPN's "Added Qualification in Geriatric Psychiatry."
Philosophy of Fellowship Education
Fellows are exposed to a complete spectrum of clinical and academic experiences in geriatric psychiatry, geriatrics, and gerontology. In addition to acquiring expertise in using pharmacotherapy and psychosocial interventions to treat older patients with late-life mental disorders, fellows gain experience in understanding the family and environmental systems in which older patients a part. Fellows, under the supervision of faculty, function as the team leaders in all settings with supervisory responsibility for residents, medical students, and professional members of the multidisciplinary treatment team. The importance of continuity of care and transitions of care among clinical settings is stressed. Fellows assess and treat patients in multiple settings (inpatient, outpatient, in-home, consultation-liaison, and nursing home) and gain experience with all modalities of treatment during fellowship. Fellows have the opportunity to work with dedicated mentors in developing research projects and scholarly activities such as quality improvement initiatives and preparation of publications and book chapters. The geriatric psychiatry fellowship is closely aligned with the geriatric medicine fellowship. Geriatric psychiatry fellows graduate from our program with high levels of knowledge about the management of geriatric medical conditions and the effects of these syndromes on psychiatric outcomes.
Rotation Blocks
Each of these five 10 week rotations is completed by the Fellow. Descriptions are provided below. Longitudinal experiences in ambulatory care and nursing home care continue through all rotations. There is ample time during the Fellowship year for electives, research, and board preparation.
Inpatient Geropsychiatry Program
The Integrated Health and Aging Inpatient program at Western Psychiatric Institute and Clinic provides comprehensive evaluation and short-term hospitalization for older adults experiencing severe depression, psychosis, anxiety, memory loss with behavioral problems, and other mental health problems associated with aging. All patients receive a complete medical, psychiatric, and social/functional assessment. Treatment modalities include pharmacotherapy, psychosocial interventions, family therapy, physical rehabilitation, and electroconvulsive therapy.
Ambulatory Program
Benedum Geriatric Center
The ambulatory care program of the Benedum Geriatric Center provides outpatient evaluation and treatment for older persons who have complex problems requiring multidisciplinary care. The Benedum Geriatric Center focuses primarily on frail seniors who have multiple medical, psychiatric, and/or psychosocial problems. Its main goal is preserving their health, independence, and well-being. Services include comprehensive medical, psychiatric, and social assessments; consultation for referring physicians and other community health care providers; environmental planning to maintain the patient's residence at home for as long as possible; health care education, counseling, and psychotherapy for patients and families. The center averages over 750 patient visits per month and has more than 2200 active patients. In addition to a three-month rotation, all fellows participate in a weekly clinic throughout the year to gain experience in longitudinal ambulatory care, including psychotherapy. These mental health services are complemented by on-site geriatric medicine, neurology, podiatry, nutrition counseling, and neuropsychological testing.
Geriatric In-Home Support Program
The Geriatric In-Home Support Program currently follows over 100 homebound older persons with psychiatric and physical illness who would otherwise not receive care or receive it only in a hospital or long-term care setting. The program's target population are those chronically and persistently mentally ill older patients (60 years of age and older) who are unable to keep appointments in an outpatient setting and are at risk for institutionalization. These patients are usually "old old" with medical problems and functional disability, cognitive or psychiatric disorders, and poor social support.
Geriatric Pain Clinic
The Geriatric Pain Clinic at the VA University Drive is a multi-disciplinary clinic dedicated to the treatment of persistent pain. Physicians, Nurses, Psychologists, and rehabilitation specialists provide group and individual pain rehabilitation programs. Treatment is both interventional and conservative. Close cooperation between disciplines is used to educate the patient and re-conceptualize their attitude to the management of pain. Fellows participate in seven ½ day clinics during their ambulatory rotation.
Movement Disorders Clinic
Fellows participate in the Movement Disorders Clinic under the supervision of Dr. Samay Jain (Neurology). The objectives of this rotation are to learn the assessment and treatment of neurological disorders prevalent in older adults, with a particular focus on typical and atypical Parkinsonism and psychiatric co-morbidities. Equally important, the Fellow serves as an invaluable resource to the neurology team as the mental health consultant within this clinic.
Palliative Care
For two weeks of the Ambulatory Rotation, Fellows gain intensive experience with Palliative Care. Fellows round daily with the Palliative Care team at Presbyterian Hospital. During this rotation, Fellows appreciate the role of the interdisciplinary approach to address physical, psychosocial, and spiritual needs of patients and families in end-of-life care, understand and observe the steps to delivering bad news, and gain experience in the advanced care planning process through participation in goal-setting discussions with patients and families.
Consultation/Liaison Service
The Geriatric Consultation/Liaison Service provides consultation and assessment services to older patients with psychiatric or behavioral problems who are undergoing treatment in the UPMC's acute care hospitals and medical and surgical services. This program provides consultation and education to all medical and surgical services, for both inpatient and ambulatory care cases. Since UPMC is so large and the Department of Psychiatry receives so many requests for consultations, we are able to have the geriatric psychiatry fellows only provide psychiatric consultations to older adults who are inpatient in our medical and surgical hospitals. This reinforces the focus of training on late-life conditions commonly seen in hospitalized older adults such as delirium.
Geriatric Research, Education and Clinical Center (GRECC) VAMC-Oakland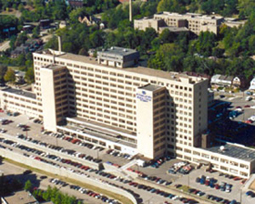 The Geriatric Research, Education and Clinical Center (GRECC) at the Oakland VAMC provides an opportunity to work closely with specialists in geriatric medicine and neurology as part of multi-disciplinary teams. This rotation consists of general neurology clinic for elders, geriatric medicine clinics, and late-life addiction clinics.
Veterans Affairs Medical Center – University Drive
The University Drive VAMC provides important training components within the fellowship. Fellows provide in-home psychiatric assessment and treatment for home-bound elders, and each fellow will identify one home-bound elder to engage in a course of short-term problem-solving therapy. Other experiences include the Late-life Schizophrenia Clinic, Physical Medicine and Rehabilitation Clinic, and Psychiatric Consultation in Late-life Primary Care.
Long-Term Care – longitudinal experience
The Geriatric Psychiatry program maintains contracts with a variety of long-term care facilities in Western Pennsylvania and has established several facilities as training sites. Fellows round weekly at their assigned nursing home under faculty supervision during each of the five rotation blocks. Pharmacotherapy and psychosocial/family interventions are the primary modes of treatment. Drug interactions, medical co-morbidity, psychosocial stressors, and medico-legal aspects of treating seniors in long-term care settings are emphasized.
During their Ambulatory Rotation, fellows will gain experience in the long-term care Special Care Unit for residents with severe behavioral problems of dementia or who have serious mental illness and require nursing home level care. This program focuses on behavioral management techniques, working closely with families and nursing home staff.
Electives
Elective time is provided throughout the year. Fellows are encouraged to identify an area of interest within which, during the fellowship, they will participate in a research project, complete a review article, or gain intensive clinical experience. Pursuit of scholarship and development of teaching and administration skills are encouraged during fellowship. Supervision and mentorship are provided by faculty with expertise in the chosen area. In recent years, electives have included research projects with mentorship provided by faculty associated with the Advanced Center for Intervention and Services Research in Late-Life Mood and Anxiety Disorders, the Geriatric Psychopharmacology Program, and the Alzheimer Disease Research Center as well as clinical work specializing in neuropsychiatry and electroconvulsive therapy. Fellows have also completed electives at the Center for Integrative Health to learn more about complementary and alternative medicine approaches for older adults, and the geriatric Intensive Outpatient Program (one of its kind in the United States). Fellows are encouraged to complete the weeklong course in electroconvulsive therapy at WPIC. This course if free for fellows and completion of this course assures the fellow has demonstrated superior training in ECT. Alternative electives are encouraged and can be independently arranged by the fellow with the assistance of and approval by the program director. Fellows also have the opportunity to moonlight on a variety of services (most commonly consultation liaison or the psychiatric emergency room) to obtain more supervised experience and boost their income.
Research
If interested, fellows are encouraged to participate in one of the many opportunities for research in geriatric mental health. The NIMH-funded Advanced Center for Intervention and Services Research in Late-Life Mood and Anxiety Disorders (PI: Charles F. Reynolds III MD) and the NIA-funded Alzheimer's Disease Research Center (PI: Oscar Lopez, MD) are only two of the research resources available to fellows. Fellows who are interested in continuing their research training can apply to the NIMH Research Fellowship in Geriatric Psychiatry (Director: Howard J. Aizenstein MD, PhD) or the Advanced Research Fellowship at the Geriatric Research Education and Clinical Center (GRECC) at the Veterans Affairs Medical Center(Director: Stephen Graham, MD, PhD). These programs will consider qualified candidates who have completed their clinical fellowship. Close collaboration between the clinical and research fellowships provides a comprehensive clinical and research training experience for fellows interested in pursuing that career path. Following completion of the clinical fellowship, Fellows also have the opportunity to apply for a fellowship in either the physician-educator track or physician-researcher track at the John A. Hartford Foundation Center of Excellence in Geriatric Psychiatry (Director: Charles F. Reynolds III, MD). This center is funded by the John A. Hartford Foundation and is one of the two sites in the nation in geriatric psychiatry.
Integrated Lectures
A lecture series focusing on the multi-disciplinary aspects of geriatric psychiatry is offered weekly as well as an ongoing psychotherapy seminar. Approximately 75% of these weekly lectures are shared with the Geriatric Medicine Fellowship Program. In addition, each rotation offers individual didactic / learning opportunities, such as the consultation / liaison series, joint lectures with geriatric medicine fellows during the Oakland VAMC rotation, and inpatient clinical case conferences. Fellows also have the opportunity to teach residents and medical students. Fellows and core faculty participate in "Career Planning" and feedback sessions with convene bi-monthly at a local restaurant. Fellows enjoy attending the bimonthly Geriatric Psychiatry Journal Club which is led by one of the more than 20 geriatric psychiatrists in our division and hosted in their homes. This journal club provides an atmosphere of collegiality, scholarship, and fun.
For an overview of the research and clinical interests of the WPIC geriatric psychiatry faculty, here is a link to our peer reviewed publications from 2016.
Application Process
All application requests should be addressed to:
Jordan F. Karp, MD
Director Geriatric Psychiatry Fellowship Program
Western Psychiatric Institute and Clinic
3811 O'Hara Street
Pittsburgh, PA 15213
Phone: (412) 246-6048
Fax: (412) 246-6030
E-mail: karpjf@upmc.edu
The application form can be downloaded from this link.
Applications will be reviewed by the Geriatric Psychiatry Fellowship Committee.
Qualifications
Applicants must have completed or be about to complete an ACGME-approved residency training program in general psychiatry, have passed the USMLE STEP III examination and be ABPN board eligible at the completion of residency. They must also be eligible to obtain a license to practice medicine in the Commonwealth of Pennsylvania.
Applicants must provide a letter of verification that they completed or will complete their residency training program in good standing.
Faculty
Chairman: David A. Lewis, MD
Fellowship Director: Jordan F. Karp, MD
Associate Professor of Psychiatry
Academic interest: Pain/depression interface; treatment resistant depression, and novel pharmacological treatments for depression
Howard Aizenstein, MD, PhD
Professor of Psychiatry
Academic interests: fMRI, Late-life depression
Sharon Altman, MD
Assistant Professor of Psychiatry
Academic interest: Consultation-liaison
Carmen Andreescu, MD
Assistant Professor of Psychiatry
Academic interests: fMRI, Late-life anxiety
Tejal Bhojak, MD
Staff Psychiatrist
Academic interest: Inpatient geriatric psychiatry
Paul Bulgarelli, MD
Assistant Professor of Psychiatry
Staff Physician, VA Pittsburgh Health System
Academic interests: Education, Late-Life Substance Abuse
Meryl Butters, PhD
Associate Professor of Psychiatry
Academic interest: Neuropsychology, Links between dementia and depression
Alexandre Dombrovski, MD
Associate Professor of Psychiatry
Academic interest: Late-life Suicide, Behavioral economics of late-life suicide, fMRI
Mary Ganguli, MD, MPH
Professor of Psychiatry and Epidemiology
Academic interest: Epidemiology of Dementia
Ari Gildengers, MD
Associate Professor of Psychiatry
Academic interest: Late-Life Bipolar
John Kasckow, MD
Professor of Psychiatry
Academic interest: Late-life psychosis, PTSD, psychotherapy, depression prevention in older adults
William Klunk, MD, PhD
Professor of Psychiatry
Academic interest: Dementia/PET Imaging
Robert S. Marin, MD
Associate Professor of Psychiatry
Staff Physician, VA Pittsburgh Health System
Academic interest: Neuropsychiatry, apathy, sexuality in older adults, preventing abuse in older adults, psychotherapy
Richard Morycz, PhD, LSW
Associate Professor of Psychiatry
Academic interest: Family burden, Home-based care, psychotherapy
Charles F. Reynolds III, MD
Endowed Professor of Geriatric Psychiatry
Academic interest: Late-life mood disorder, sleep, prevention of depression, complicated grief
Keith Stowell, MD
Assistant Professor of Psychiatry
Academic interest: Dementia and education, Forensic Psychiatry
Lalith Kumar Solai, MD
Associate Professor of Psychiatry
Academic interest: Delirium, Education of Clinician Educators
Robert A. Sweet, MD
Professor of Psychiatry
Academic interest: Neurobiology and genetics of psychosis
Esther Teverovsky, MD
Associate Director
Clinical Assistant Professor of Psychiatry
Academic interest: (BEST) Bellefield Enhanced Support Team Program, geriatric psychiatry education
James Tew, MD
Associate Professor of Psychiatry
Academic interests: Transitions in care, health care reform
Crystal White, MD
Assistant Professor of Psychiatry
Academic interest: Geriatric mental health teaching, inpatient psychiatry
Ellen Whyte, MD
Assistant Professor of Psychiatry
Academic interest: Depression and stroke, Psychotic Depression
Daniel Varon, MD
Assistant Professor of Psychiatry
Academic interest: Neuropsychiatry, inpatient psychiatry, education, dementia